When you set up a subscription with Inline Manual, you'll be billed automatically on the last day of your subscription period. You can access your invoices anytime within Inline Manual portal. In this article, we'll show you how to do it.
To view your invoices/payment receipts:
Login to Inline Manual portal with your e-mail and password.




Click the drop-down menu in the upper left corner, choose the paying entity (your personal account or an Organization account) and go to the Subscription tab.




You will be redirected to the page with your subscription details. Click Payment receipts to see your invoices. If there are any receipts, you will see them. If not, you'll see the info that no receipt has been collected.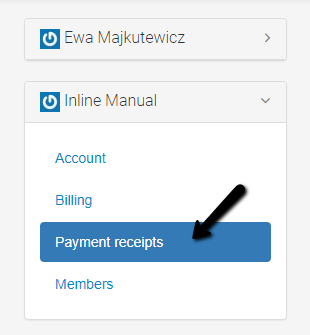 If your personal account is on a paid plan and you wish to transfer it to your organization, send us an email to support@inlinemanual.com. We will move the payment and the subscription.
If you have any additional questions about your invoices and subscription, contact us via chat or e-mail at support@inlinemanual.com
Related articles