While creating content in Inline Manual, you usually add navigation buttons to your popovers to smoothly help your users move through your guides. You can use default buttons or create yours. In both cases, you will work with the Inline Manual Authoring Tool and the Step Options Panel.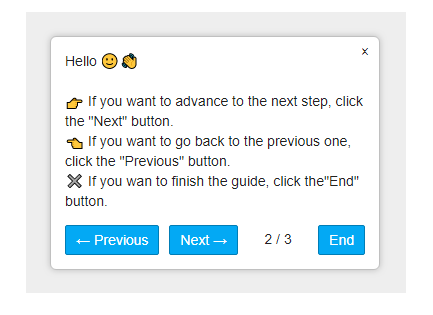 In this article, we will describe available buttons and explain how they work.
Available buttons
In Inline Manual, there are three default buttons available:
Previous - goes back to the previous step,

Next - advances to the next step,

End - finishes the guide.

When you activate those buttons, they appear at the bottom of your popovers, like this:
However, there are other options available in the control panel:
Navigation - switch off/on the Previous and Next buttons,

Progress - shows the number of steps in your guide,

Controls - toggles whether the entire control menu appears,

Close - shows the "x" button to close the popover,

All - enables/disables all buttons you have selected; also disables the padding and the entire buttons holder, so there is no additional space.


Adding custom buttons
Instead of using the default buttons, you can add custom ones in the Step Options Panel to:
Launch a Topic

Jump to a Step

Deactivate a Topic

To add a custom button:
In the Step Options Panel, click the custom button icon.




Edit the text that you want to appear on the button.




Set the action - choose a location the button points to, e.g. choose another topic, step or deactivate the topic.



Please note that you can also use the new feature to create custom inline buttons. These are buttons that do not span across the entire step (100%) but are rather based on the amount of text.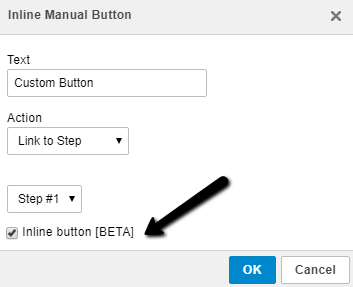 Read more about custom buttons here.
Changing the default colour and text
By default buttons in your popover are blue. You can change their colour in the Inline Manual portal.
To change the default colour of a button:
Go to Sites in the upper menu and choose a site for which you want to edit a topic.




Go to Settings of the site, then Player appearance, and click Buttons tab. You will see the option to customize your buttons. Make desirable changes.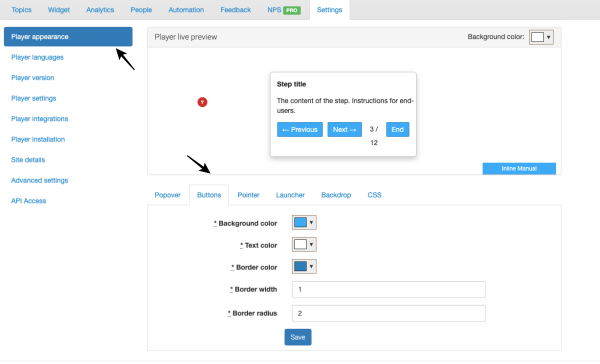 Confirm changes with the Save button.
Read more about changing the player appearance here.
You can also change texts visible on your buttons in the Inline Manual portal. Applies only to the default buttons - Next, Prev, End.
To change the default text on the button:
While in Site settings, click the Player languages on the left menu.




Click Add localization.




It will open a section with texts visible in different parts of the Inline Manual player. Scroll down to the Popover section and provide desirable changes, e.g. you can change "End" to "Finish" if that suits your application better.




Confirm with the Save button.



Find out more how to change the text globally as a translation.