Before our next release, we encourage our customers to test out the new player and make sure it works for you. During this time you can report any errors you discover. This gradual rollout means we give clients time to review any changes and give us feedback.
To check if there's BETA version available:
Login to Inline Manual portal with your e-mail and password.




Go to Sites and choose the desired site.




Go to the Settings tab.




Go to the Player version tab.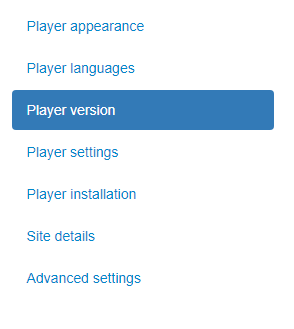 Check if there's a BETA version available to be enabled.

We're offering customers this testing period to test out customizations and ensure they work with the latest update. Now we can make more changes with confidence.
Important notes
New updates to the player will be announced before a release. At this time, customers can opt-in to try a gradual rollout.
You can test the Player per site, so you can safely test on a Staging environment without upsetting your Production environment.
Before the release, you can visit Sites > Settings > Player version within the Inline Manual Portal to enable the Player version.
You have one option: Select "Beta version" to try the next update.
If you have found issues, you can return and de-select "Beta version" to go back to the last stable release.
At the end of the Beta period (refer to the release date within Player version tab), the player will be released to all customers. The period might extend, depending on the bugs discovered.
Please report the issues you found to support@inlinemanual.com Your feedback is very important to us. We're looking forward to it!
Subscribe to developers channel about updates
A new channel has been introduced to follow updates to the new player version, so the developers can follow, check the API changes or any other changes to make sure there is no impact.
Sign up to the Inline Manual Developer Mailing list or forward this link to your developers.